Since I started collecting cards 19 years ago, my collecting tastes have changed more times than I can remember. When I was younger, I collected some of the bigger baseball stars in the game-- Chipper Jones, Barry Bonds, Jeff Bagwell and Roger Clemens. As I got older, I started to mainstream my collection to primarily Houston Astros players-- Bagwell, Biggio, etc. But in between the now and the then, I also collected, amongst others, the San Diego Padres, Bazooka baseball, Tampa Bay Rays, Wade Boggs, game used bats and really crappy autos.
Now, I stick to a few select things, that leaves me with something to look for. From my player collections (Juan Gonzalez, Javier Vazquez, Richard Hidalgo, Hunter Pence), my burgeoning rookie collection (so far highlighted by my '72 Topps Carlton Fisk), my slowly growing HOF game used collection to an affinity for interesting 90's inserts.
So, to start off my blog, I have decided to show off a few cards from each of my player collections.
Richard Hidalgo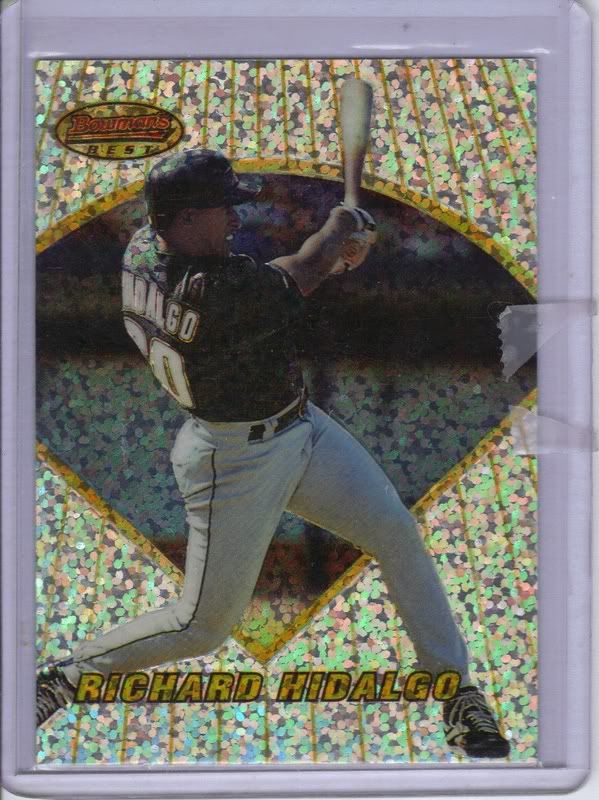 The card that started my Richard Hidalgo collection, the Bowman's Best Atomic Refractor. I was always a huge fan of Hidalgo's when he played for the Astros and still followed him when he was on the Rangers. Since the only radio broadcast games (yeah, I listened to games back then...before main stream internet) were Rangers games, I enjoyed getting to listen in on his career in Arlington.
Javier Vazquez
This is probably my proudest collection, due to the number of autos I have of him and this, my only Bowman Chrome rainbow. The Super was a Secret Santa gift from FreedomCardboard.com member and moderator blanning71. I eventually bought the Red Refractor, Xfractor and base card afterwards, but he was the one to locate Super for me. I must admit, Superfractors really pop in person, scans do them no justice.
Juan Gonzalez
Juan Gone was always one of my favorite players in the 90's. It just seemed the game came so easy to him and his run at the all time record for RBI's in a season was exceptionally thrilling for me. This card highlights those memories as Donruss Crusades are some of the most sought after 90's inserts by player collector's and PSA collectors alike. I got this for fairly cheap on eBay and would love to locate the Red and Purple one day.
Hunter Pence
Well, outside of being my second favorite Astro, I am a huge fan of the way Pence plays the game. As such, with him being a young player and probably going to be an Astro for life, I named my son after him (well, him and Catfish Hunter). I was extremely glad to see him land an All Star bid this year and hope it is the first of many to come. I chose this card because it was a gift during a different Secret Santa that I received from the FreedomCardBoard.com's LaneyB, a huge Griffey, Jr. collector. The scan doesn't do it justice, I plan on getting a better scan of it in the future.
Thanks for checking in. Any comments, questions or just to say hey, feel free to email me at anicolausk@yahoo.com.