So, it's already 8:15 am on this side of the Great Atlantic Pond. My son awoke at 7:30 and my wife popped out of bed, ready to attempt her first ever solo Thanksgiving dinner. She's never cooked a turkey or had to put on a 7 course meal, but I have faith in her.

I know in my household, today we give thanks for our family, for God for always being there for us, for my fellow soldiers serving stateside, in Iraq, in Afghanistan and abroad and for our continued good health.

I'd also like to give thanks for some recent eBay wins, that have been REALLY upgrading the ol' Richard Hidalgo PC.

One I won this morning (like 4am) that i am TERRIBLY thankful for is:

2005 Topps Turkey Red Suede Ser Numbered......are you ready for this...........I hopey ou are sitting down.......ONE OF ONE!!!!


This is my first Hidalgo 1/1 and a great one at that. These suede cards hardly ever pop up, regardless of player, so it was great to get it for a decent price (A little over $13 delivered).

Next up is a recent mailday with some more Hidalgo-y goodness:

2005 Donruss Champions Black Parallel Ser Numbered 5/5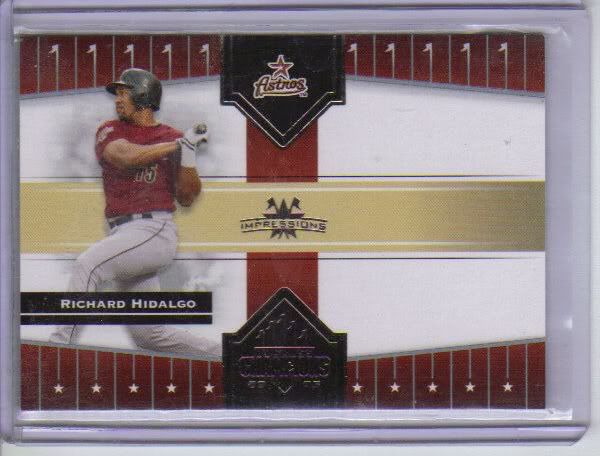 1998 Donruss Crusades PURPLE Ser Numbered /100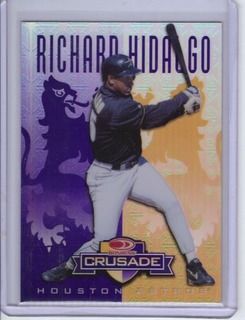 Easily my favorite Hidalgo. If anyone player collects or team collects and has a player in the Crusades set, I would chase after a few of the cards. I have the Green Crusade on the way in the mail (a guy on eBay recently broke up a green set and a purple set and listed them individually and he has most of the Reds, including Hidalgo's....but I don't have $90 to offer him right now for the red) and plan on getting the Red sometime soon. This is easily THE insert/parallel set of the 90's.

And my final Hidalgo card in recent mail history is my newest auto, 2004 Sweet Spot: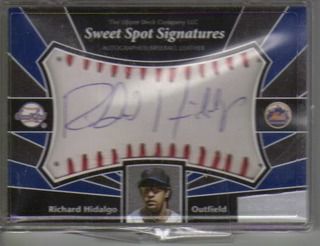 Kind of tough to find new Hidalgo autos as many don't get listed and the ones that do, I generally already have. Except for a few in eBay stores, but those are primarily overpriced by Burbank Sportscards or Syndicate Sports.

I hope everyone has a fantastic Thanksgiving. I know I plan on eating way too much turkey, potatoes, pumpkin pie, gravy, rolls and veggies and watching as much football as possible.

Should have my contest post up tomorrow, with some pretty nice cards being given away.

Stay tuned!!