Well, this will be the ONLY time I ever have a trade post, so check it out. If I get anything new in, I will updat the post. So if you ever feel the need to trade me something I need, a link to this post will be in the sidebar for all of eternity (or as long as this blog survives) so check in whenever you want and throw me an offer for something you need.
A little heads up: my scanner has crapped out on me, so this post will be about 80% text with only a small amount of my cards having scans.
The scanned cards: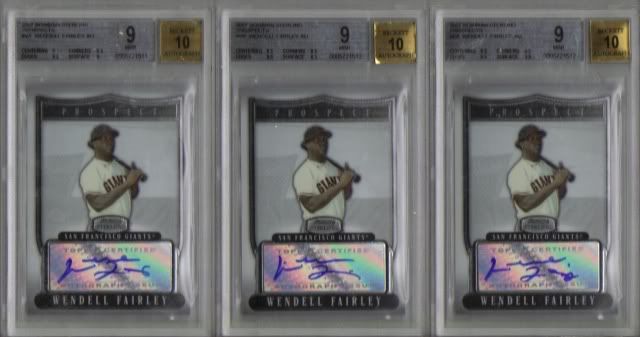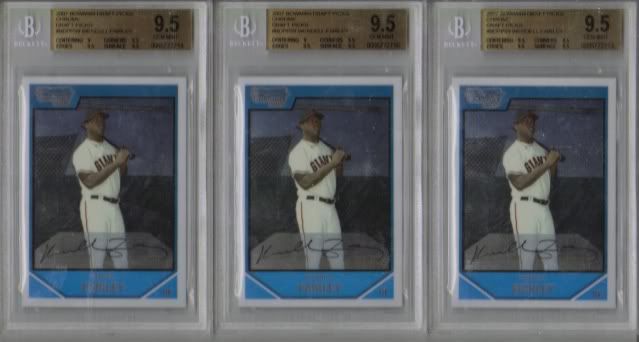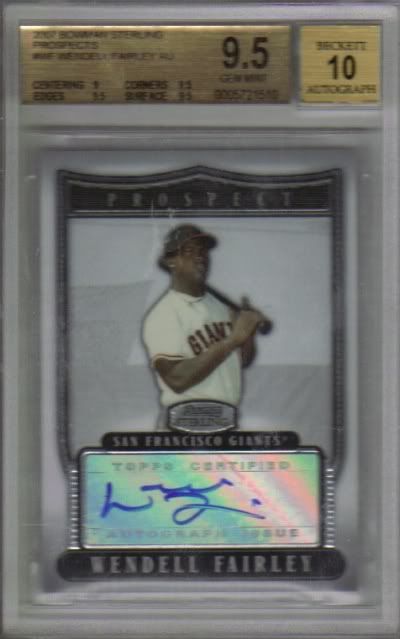 Autographs
2000 Royal Rookies:
Frederick Torres 2402/4950 RANGERS
Jose Morban 2883/4950 RANGERS
1996 Leafe Signature Series Tom Lampkin GIANTS
2001 Royal Rookies Javier Calzada A'S
2007 SP Authentic By The Letter Kevin Cameron "R" 14/50 PADRES
2007 UD Elements Clar Cut Aaron Harang AUTO/JSY 068/350 REDS
2001 Topps Archives Moose Skowron YANKEES
2007 UD USA Junior Jersey & Signature Jarrod Parker AUTO/JSY 260/295 DIAMONDBACKS
2008 Bowman Nyjer Morgan PIRATES
2007 UD USA Today & Tomorrow Jemile Weeks/Christian Colon A'S
Game Used
2002 Fleer Classic Cuts Ted Williams Bat RED SOX ***Only looking to trade this for something really nice for my PC (Think a nice Pence auto, Bagwell auto, Biggio auto, Bob Gibson auto or graded Gibson 59 Topps)
2008 UD Ballpark Collection Quad Swatch Memorabilia Griffey/Harang/Soriano/Zambrano 4x JSY REDS/CUBS
2008 UD A Piece of History Stadium Scenes Adam Dunn JSY w/ Stripe REDS
2002 Sweet Spot Classics Graig Nettles BAT YANKEES
2003 Flair Power Tools Jim Thome BAT 138/500 PHILLIES
2009 Goodwin Champions Brandon Webb JSY w/Stripe DIAMONDBACKS
2002 Upper Deck NL All Star Swatches Fred McGriff JSY CUBS
2007 Sweet Spot Classic Cal Ripken Jr. JSY ORIOLES
2001 UD Pros & Prospects Then & Now Schilling/R. Johnson DUAL JSY DIAMONDBACKS
Patches
2008 SPX Winning Materials:
JJ Hardy 4 Color 66/99 BREWERS
Andruw Jones 2 Color 70/99 BRAVES
2005 Donruss Zenith Andy Pettite 4 Color 14/100 ASTROS
Serial Numbered Inserts
2007 Topps Updates & Highlights GOLD Jeff Salazar #22 1860/2007 DIAMONDBACKS
2001 Topps Traded GOLD JD Martin RC #T263 533/2001 INDIANS
2001 Topps Traded Gold Dane Sardinha RC #T194 745/2001 REDS
2001 Topps Traded Gold Jeff Randazzo RC #T254 516/2001 TWINS
2004 Topps Traded GOLD Javier Guzman RC #T196 1240/2004 PIRATES
2004 Topps Traded GOLD Jim Crowell RC #T113 1556/2004 PHILLIES
2008 Donruss Elite COLLEGE TIES Dusty Coleman/Aaron Shafer #CTC-17 627/1500
2005 Donruss Elite ELITE TEAMS BRAVES #ET-10 592/1000
2008 Bowman ORANGE Scott Rolen #43 223/250 BLUE JAYS
2008 Bowman DP&P BLUE Henry Sosa #76 246/399 GIANTS
2008 Donruss Threads GREEN Will Clark #44 46/250 GIANTS
2006 Reflections GREEN Pedro Martinez #46 30/499 METS
2005 Donruss Zenith GOLD ARTIST'S PROOF Johnny Estrada #58 40/50 BRAVES
2005 Donruss Champions GOLD? Vernon Wells #340 38/50 BLUE JAYS
1999 Upper Deck Black Diamond DIAMOND DEBUT Shane Monahan #118 866/2500 MARINERS
2002 Donruss Classics GOLD Wilson Valdez #223 384/1500 MARLINS
2007 Bowman Sterling REFRACTOR Phil Hughes #PH 147/199 YANKEES
2004 Donruss Elite ASPIRATIONS Carlos Delgado #68 68/75 BLUE JAYS
2005 Donruss Elite ASPIRATIONS LEG Johnny Bench #161 43/95 REDS
2006 Finest REFRACTOR Zack Greinke #27 52/399 ROYALS
2005 Donruss POWER ALLEY Manny Ramirez #14 257/1000 RED SOX
1998 Donruss Fan Club FANTASY TEAM Larry Walker #13 1433/4000 ROCKIES
2005 Diamond Kings BLUE BORDER Mark Buerhle #333 23/100 WHITE SOX
2008 UD A Piece of History BOX SCORE MEMORIES Chipper Jones #3 47/75 BRAVES
2007 M&M BLACK Mickey Mantle #RBI57 16/29 YANKEES
2005 Donruss PRESS PROOF RED DK Alfonso Soriano #23 45/200 RANGERS
1997 Donruss POWER ALLEY Andruw Jones #6 3095/4000 BRAVES
2000 Crown Royale BLUE Albert Belle #17 09/75 ORIOLES
2006 Finest GREEN REFRACTOR Freddy Garcia #10 143/199 WHITE SOX
2005 Topps Pristine COMMON BASE Chuck Tiffany #119 28/66 DODGERS
2005 Donruss Elite ELITE TEAMS MARLINS #4 300/1500
Inserts
To be finished later
Rookies
To be finished later
I will finish this at a later date. I can just feel carpal tunnel kicking in and I still have one more post to knock out (my thank you post).