Right now, my posse stands at Hunter Pence, Javier Vazquez and Richard Hidalgo.
I have the 90's covered (Hidalgo) and the modern times covered (Pence and Vazquez), but in my collection, I don't have ANY of the vintage covered (at least in a player collection sense).
Well, that time is over.
Just before Christmas I started a trade with a member of
SportsCardForum
for a starter lot of stuff of this vintage guy. If you have checked out my Top 10 Most Wanted list, he appears twice on the list.
That player: Bob Gibson.
I wasn't alive when Gibson was an active player, but seeing highlights and looking at his stats absolutely pulled me into Gibson. I don't know why I never collected him before, but I am glad I have started.
And the primary reason I chose him is: for being such a dominant player, his stuff is relatively cheap. Outside of his rookie card and low numbered autographs, his cards are all priced fairly well. His mroe abundant autos and game used all end under $20, which is awesome when you think of the career he had: 2 Cy Youngs, 2 World Series MVP's, set the modern era record for ERA in a season with 1.12. During that season (1968), he also won the NL MVP, allowed only 2 earned runs of a 90 inning span (a 0.20 ERA), threw 13 shutouts (2nd all time behind Grover Alexander's 16), struck 17 tigers in game 1 of the World Series and lost FIVE 1-0 games (including one game where the Cardinals were no hit). Because of his dominant season, it led to the pitching mound being lowered by five inches. The only time someone has played so well that the rules of the game were changed.
So, here are a few cards I am getting in that package, though it hasn't arrived yet (Note: These are not my pictures, none of the cards are graded):
1969 Topps #432
1973 Topps #190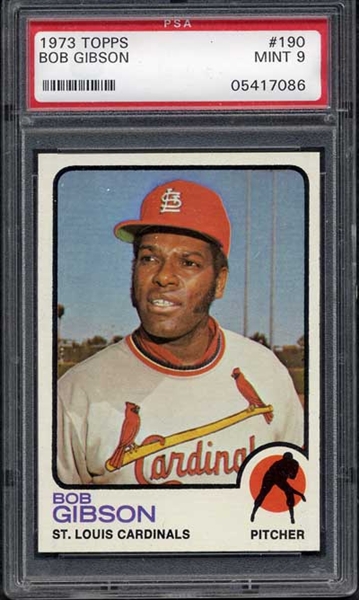 1965 Topps #138

I will also be receiving two magazines in the trade:
1969 Who's Who in Baseball

April 1971 Baseball Digest

And, to end the pickups (for now), I picked up this book on eBay this morning:
The Autobiography of Bob Gibson
(Advanced Copy)

I picked this book up (plus the magazines) because I have never collected oddball stuff outside of cards for ANY of my collecting ventures. For ol' Bobby though, I plan on collecting books and magazines with his face on the cover, McFarlane's, beanie babies, dvd's, etc. Anything and everything interesting to me.
So if you ever run across anything Bob Gibson, keep me in your mind.
Also, I will be starting a project soon that I would like to have as many opinions on as possible. I am rethinking the Baseball Hall of Fame and a way to make it have more prestige, by making a "level" system, where, based on stats and HOF credentials, a player would be placed on a different level (like, Jim Rice and Willie Mays wouldn't be on the same level, nor would Gaylord Perry and Walter Johnson).
It will be pretty time consuming and quite a long process, but should be a ton of fun and will need particpation from a bunch of different minds.
More details will be revealed in the future.