And by many thanks, I mean 3 thanks. (I borrowed all pictures, so none are my originals)
First up, is Mark from "Mark's Ephemera". He sent me a handful of cards he picked up on the cheap at his local cardshop. They were:
2000 Topps Traded Francisco Rodriguez ROOKIE (I plan on grading this eventually, it is in great shape)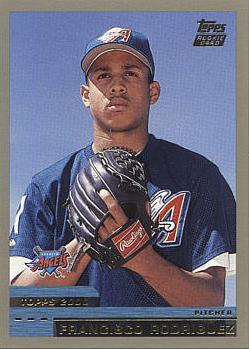 Football:
2007 Bowman Brent Celek Rookie & Darelle Revis Rookie
2003 Bowman Tyrone Calico Rookie (For my Titans collection)
Next up, is Wrigley Wax. He contacted me a few weeks back mentioning he had some early 70's Topps Astros for my Astros Topps Team Sets project. He sent me nine 1974 Topps, 2 1974 Topps Traded and seven 1973 Topps cards. The highlight was the 74 Topps NL All Stars Amos Otis/Cesar Cedeno card. Cesar was such an underrated player for th 70's and 80's 'Stros.
Last, but not least, is C. Kugelman, from Indianapolis. He sent me a box with a handful of goodies. Probably 70 or 80 2008 topps, of which I needed 30 of and a few Hunter Pence cards I needed and a few Javier Vazquez cards I needed. The thing is, I don't have even the vaguest of clues as to who this is in the blogging world. So, if you are a Mr. (or Mrs.) Kugelman, please email me or leave a comment.
Thanks!!