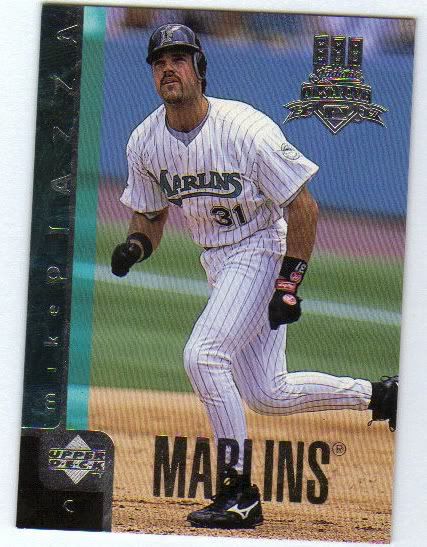 I mean, really, the choice wasn't too hard. Other than Mike Piazza, who else has donned a mask for the Marlins or Rays? Charles Johnson? Dioner Navarro? Ivan Rodriguez (I mean, yeah, he was on their WS winning team, but so was Mike Redmond)?

Pudge's defensive dominance aside, it has to be Piazza. Even if he was only a Marlin for a week, during that tumultuous 1998 season when he was traded TWICE in a span of ten days or so. And it was during his peak years (he hit 32 homers that season and still had 4 more 30 plus homer seasons and 3 more 20 homer seasons on top of those 30 homer seasons).

Why do I bring this up? Mainly, just to show off the ONLY card I have of Piazza wearing a Marlins uniform. But also to ask, has any other superstar (and future Hall of Famer) ever been traded twice, in one season, at the height of their time?