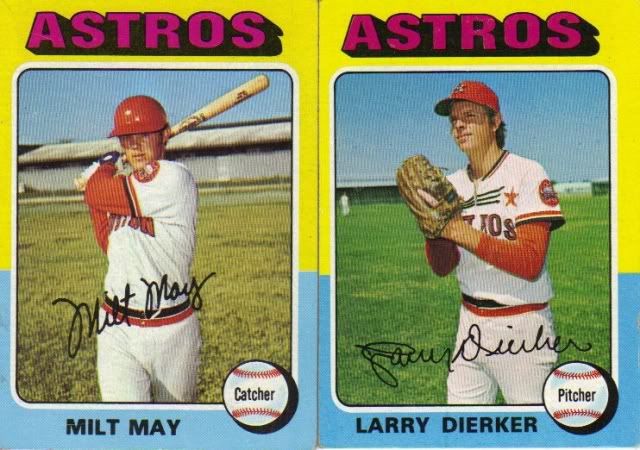 Notice anything different between the two photos above?
First, let's find the things that are the same. Same set? Check. Same team? Check. Same font? Check. Same sport? Check. Same jersey? Che...wait a minute.
Notice it now? Both Dierker and May are wearing classic home game jerseys for the Houston Astros, but they are two totally different jerseys. The May jersey has Houston on the front, whereas the Dierker clearly has Astros with an orange star and some black lines going across the chest.
Now, this wouldn't be a problem if the photos were game day photos or actions photos but, it just seems as if these are staged photos, possibly in the same place (so possibly on the same day).
Why would two players from the same team be wearing two different home jerseys in the same set, yet neither of the pictures are action shots? You got me. Hell, I am struggling just to find any pictures of ANY Astros player in an action shot from 1975, just to try and confirm exactly what they wore that year.
Have you ever seen two players from the same team in the same set wearing different home or away jerseys and they are NOT from an action shot? I know, to my knowledge, this is the only example I have.