Well, over the past few months I have been able to pick up auto cards of my two main PC guys (Richard Hidalgo & Javier Vazquez) at pretty considerable amounts, so I felt like showing them off.
Javier Vazquez
First up, I will start with one of the newer auto sets, from 2010 Chicle.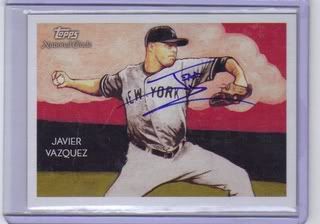 This is an Artist's Autograph, numbered 6/10. I really like two things about the Chicle set: on card autos and, well, I really like the art work on his cards.

Next up is a hard to find Leaf Certified Material Mirror Gold auto.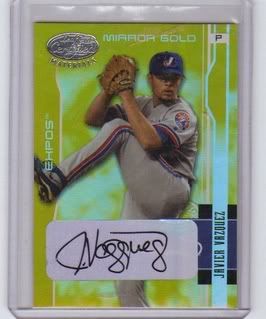 Now, onto the three recent Richard Hidalgo auto pick ups, starting off with something from far south of the border.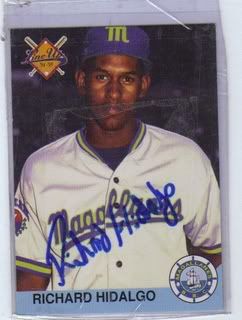 This is a 94-95 Line Up Venezuelan auto, shipped from, well, Venezuela. The seller has two other autos up for sale, but for more than I paid for this one, so I am holding back on buying them. Please note, this isn't a bad scan, just what is on the "top loader", which seems to just be a crazy piece of plastic all around the card.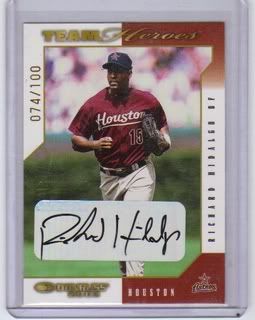 2003 Donruss Team Heroes auto, 74/100. I've seen a few here and there, but usually for BINs much higher than I would be willing to hit on, even for a PC card. I hate sticker autos, but it doesn't look TERRIBLE on this card, in my opinion.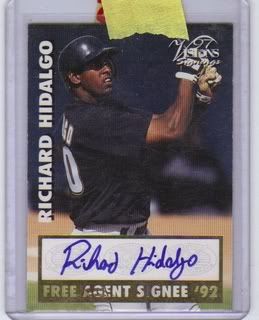 1997 Scoreboard Visions Signings auto. These are generally easy to find, but some of the bigger names in the Scoreboard sets have a tendency to be faked, so a lot of people ignore this set. A great early, on card auto of Hidalgo.
Well, those are all the auto'ed cards I have gotten in recently. I have a few more big mailday packages coming in soon, including 2 from Check Out My Cards, one from sportlots (just a large handful of base, but more to knock off of the ol' checklist) and a decent sized lot from Syndicate Sports Cards, in an off eBay deal, where they were willing to take an offer of less than the total combined price for all of the cards. And, yes, the 3 larger lots include more autos.
Thanks to the sell of all of my game used and auto cards that were not PC, I have been able to work very diligently at my 2010 Collecting goals and should be able to knock out a lot by the end of the year.
Thanks for looking guys.