And the way they fade.
This card has been in my collection a few years: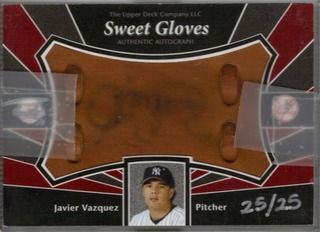 As you can tell, the auto has faded TERRIBLY. Now, I don't mind too much, since I got the card for a solid price and it is 25/25, but I bring this up because I recently won my second Sweet Spot auto glove:

As you can see with this one, more fading, but not as much. One would think that the fading would happen throughout the product, on all types of cards, but it seems the actual baseball autos have held up pretty well: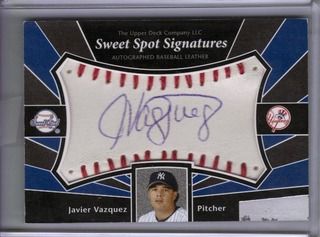 Now, I could attribute this to the types of pen used. It seems as if a regular, blue pen was used to sign the above card, whereas the two glove cards seem to be signed by what looks like bleeding felt tip pens, hence the thicker lines.
I am no expert on ink life, light exposure and how to keep these autographs from fading over time, but has anyone else experienced this much fading on any surface other than the brown glove Sweet spot autos? From the ones I have seen, I think I can confirm there are no fading problems with the black leather autos.
Also, anyone have any ideas on how to display these cards WITHOUT the fading becoming worse?
Thanks for any ideas guys.