Well, the two corner infield spots were tougher to fill then the catcher spot. I had to look past a few guys I really enjoyed watching growing up (Jeff Bagwell, Matt Williams, Rafael Palmeiro), one of the best power hitters of the 90's (Mark McGwire) and a guy with 3,000 hits and 500 home runs (Rafael Palmeiro).

In the end, it comes down to the greatest offensive player of the now (Albert Pujols), one of the most powerful players of the 90's (Frank Thomas) and the greatest 3B of the last 25 years (Chipper Jones).

(Note: For all intents and purposes, I consider Alex Rodriguez a SS, not a 3B, for this team).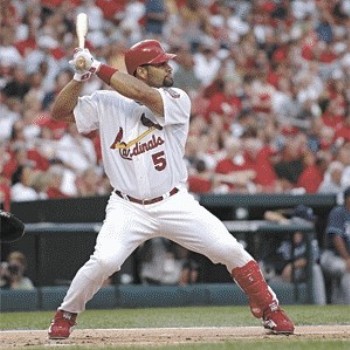 Albert Pujols. 3 MVP's, 8 All Star selections, 8 times in the top 5 of MVP voting, Rookie of the Year, 5 Silver Sluggers, 1 Gold Glove, 1 World Series ring. With that kind of a resume, there's really no need for stats.But, the stats, the STATS, tell the true story. In only 9 years in the big leagues (no less than 143 games in any season) Pujols has 366 home runs, 1717 hits and an OPS of 1.055. Those are RIDICULOUS stats for a guy who was a relative unheard of when he started the 2001 season. He could end up the greatest hitter of all time. I know I won't disagree should he keep this up.

Frank Thomas was one of the premier power hitters of the 1990's. Winning back to back MVP's in the '93 and '94 seasons, he showed his true presence as a force to be reckoned with. Thomas was built like an ox and had the power (and speed) to prove it. Though others may have more home runs or more hits, Thomas was a career .301 hitter who had plenty of power into his late 30's. It could be argued he is one of the greatest right handed hitters of all time (just ask those sabremetrics guys).

Larry Wayne "Chipper" Jones was one of my FAVORITE players growing up, as well as much of the children in the Southern part of the United States' favorite players as well. Outside of Mickey Mantle, Chipper was the only other legit switch hitter I had ever heard of, so I naturally latched onto him growing up (I was a budding switch hitter who can now only hit right handed). He is quite possibly the greatest 3B of not just the last 25 seasons, but possibly the greatest since, well, I would say George Brett (Wade Boggs was more of singles hitter). With an outside shot at 3,000 hits and 500 home runs, he has a ton to be, uh, chipper about.

Feel free to chime in on my selections for the All Quarter Century Team so far by leaving a comment or emailing me.

Next up: Middle Infielders.