I had quite the mail week this week. So I am going to make this a two part post.
First post: freebie mailday from Ed at
Roll Out The Barrel
.
He emailed me a little over a week ago, telling me he had stumbled upon the blog, enjoyed it and had some Astros for me.
Well, I always enjoy free cards and this paclage did not disappoint.
First up, 3 random Astros cards: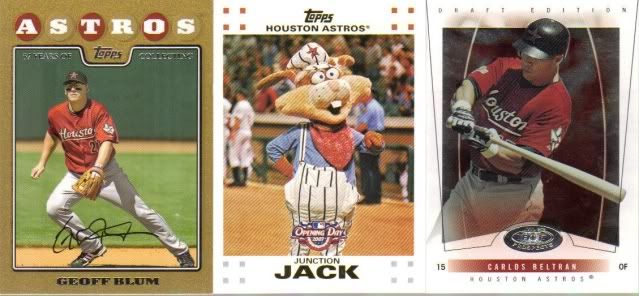 The Blum is an 08 Topps Gold. The Junction Jack is the first one I have seen of that card. Since I have never actually been to an Astros game, I don't know much about ol' Jack, but it is tough to find an Astro for a mascot, ya know? And the Beltran, well, it is tough to find cards of him in an Astros uniform. He was a mid season trade and fled after the post season was over, so he has little cards showing him in an Astros uniform.
Next up, is a few cards of some of the big name Astros players: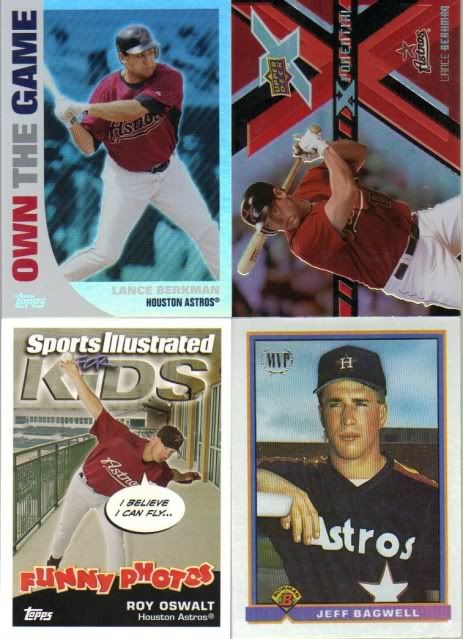 These were my favorites of the 3 non-PC Astros in the package. I know I am in the minority, but I really like some of the UD X stuff and the Berkman looks a lot better in person then it does in the scan. The Oswalt is a favorite because I love those kind of odd ball cards that are everywhere, but somehow you never get them. As for the Bagwell, it just reminds me of when he first came up as a scrawny little guy who went on to be the most prolific home run hitter in Astros history.
And now, the best part of the package: Hunter Pence.
Ed's generosity included SEVEN Pence cards that I did not have yet for my Pence PC:
Thanks again Ed, hopefully I can pay you back sometime!!!